When we say that we take care of your children's safety in the car we really mean it - even when the car is stationary.
Easy-Tech is a system which alerts you if you are leaving your car but your child is still inside. The device alerts the vehicle driver by sending an acoustic, visual and vibratory alarm to the registered smartphone.
As Easy-Tech is universal, you can use it with all child seats on the market without altering its safety performance. Once installed on the child seat and connected with the RECARO Kids App, the connection is completely automatic.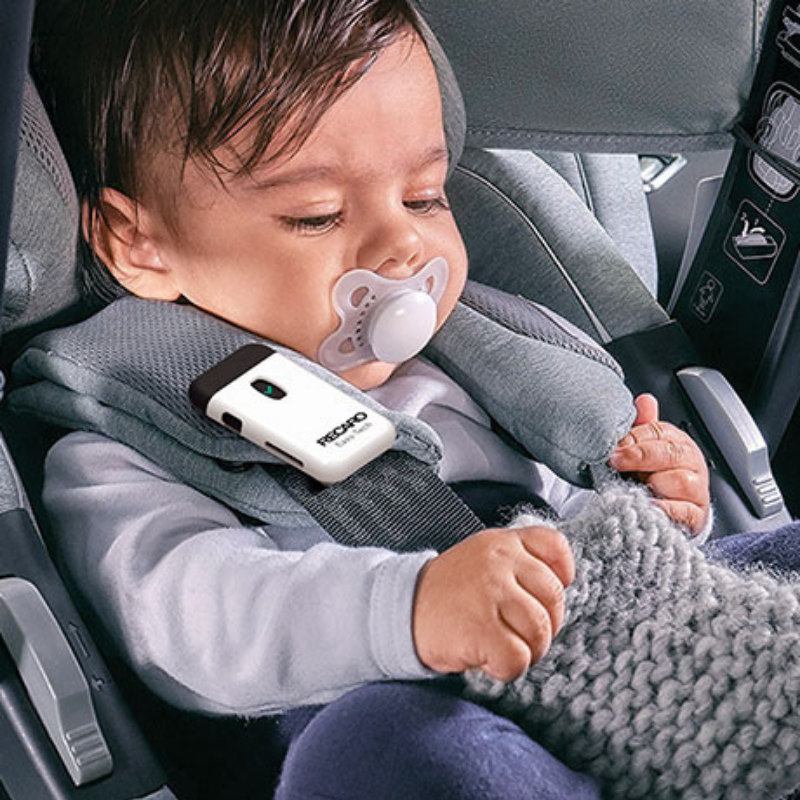 HOW IT WORKS:
ACTIVATION
Simply attach the Easy-Tech device to the shoulder pad or 3-point seat belt using the clip on the back, fasten it, and you're ready to go.
DEACTIVATION
Once you reach your destination, unbuckle your child and simply open the device to deactivate it.
RECARO KIDS APP
Easy-Tech works with the RECARO Kids App. Just download the App, follow the instructions to connect your smartphone and the device and that's it. For even greater safety, the RECARO Kids App has several alarm levels:
ALARM 0
If the driver moves away from the vehicle in which the active Easy-Tech is installed, the system sends out a simple distance alert to the smartphone. From this moment, the driver has 3minutes to do things like grabbing the groceries from the boot or filling the fuel tank, with no further alarms.
FIRST LEVEL ALARM
If the driver moves away from the vehicle for more than 3minutes, an acoustic, visual and vibratory alarm will be triggered on the smartphone; it can be muted within 40 seconds.
SECOND LEVEL ALARM
This is activated when the first-level warning is not silenced within the time window provided. It sends an alarm message to all the pre-set emergency contacts with the information required to geolocate the area where the baby is to be found. The RECARO Kids App comes with a package of alarm messages; these will be deducted with every second level alarm message sent to the emergency contacts entered. New alarm messages can be bought through the RECARO Kids App. In case of insufficient residual alarm messages, simply buy one of the packages available in the "Purchases" section of the app. If the number of alarm messages is insufficient, the system is disabled and will not work.
User Guide
Easy-Tech - Manual: Easy-Tech - Manual.pdf
Declaration RE Directive: Declaration RE Directive.pdf